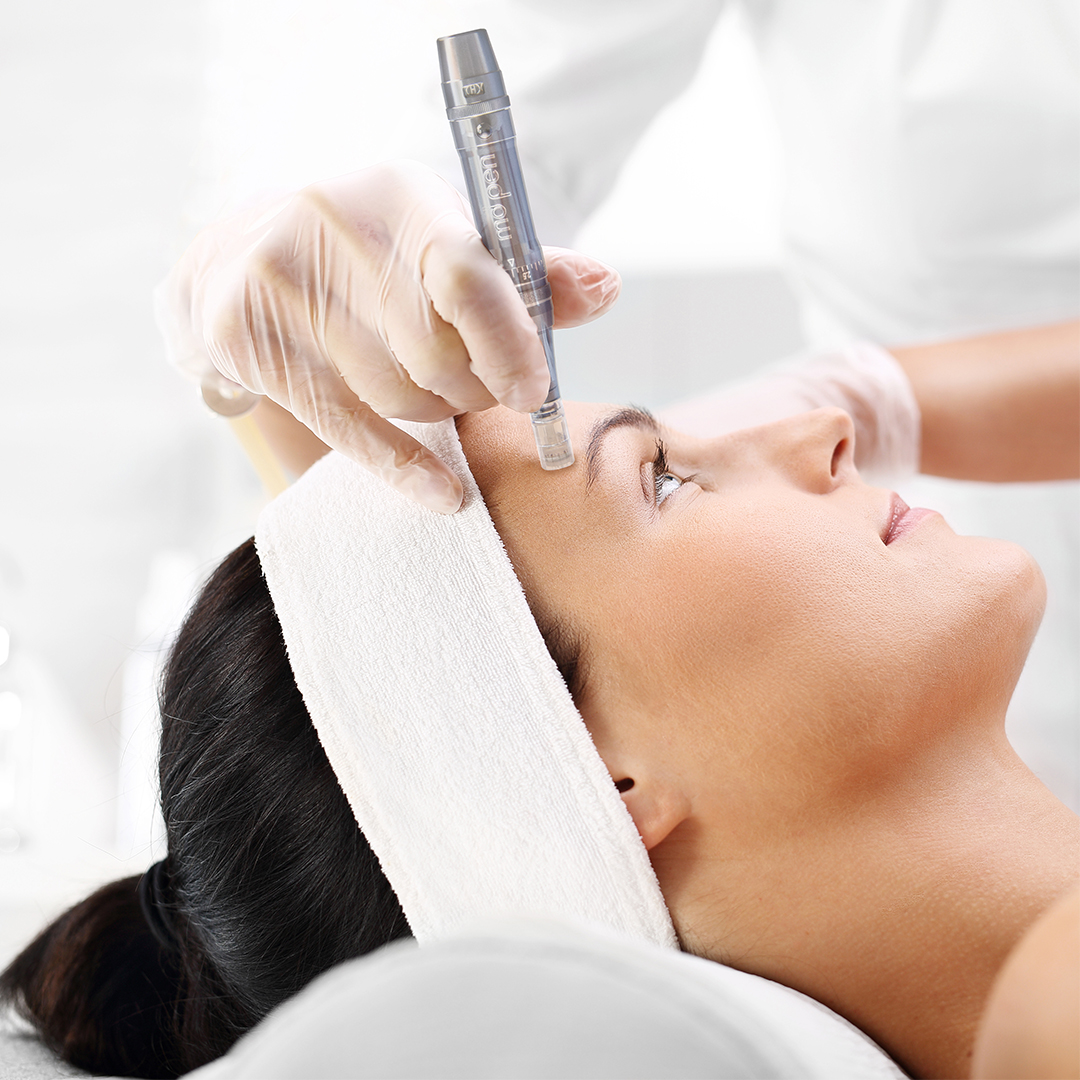 Microneedling is a very simple, safe, effective, and minimally invasive therapeutic technique. It was initially introduced for skin rejuvenation, however, now it is being used for a very wide range of indications including facial lines/wrinkles, acne scars, acne, post-traumatic/burn scar, alopecia, surgical scars, hyper pigmentation, drug delivery, hyperhidrosis, stretch marks, and many more.
Also known as collagen induction therapy, microneedling triggers the body's natural regenerative properties to rebuild collagen and elastin in the skin. Using nothing more than a few incredibly fine needles that create small punctures in the skin, microneedling can achieve comprehensive skin rejuvenation that works on a wide range of conditions. There's no sutures, lasers, or incisions needed – it's just the patient and their skin. With its advanced mechanism, microneedling is the key to rejuvenating the skin with no downtime and no painful recovery. The Forest Park Wellness staff lead by Dennis Kasunic L.Ac. proudly uses the trusted MdPen to deliver every microneedling treatment. Patients are encouraged to learn more about the technique by scheduling a consultation at our NW Portand, OR practice. Over a short period of time, it has gained mass popularity and acceptance as it is a simple, affordable, safe, and effective technique.
Microneedling Dermal Skin Treatments are also mistakenly known as the "Vampire Facial" made famous by Kim Kardashian. Well, our Microneedling treatments are NOT near as scary looking as those on social media but still highly effective at reducing lines, wrinkles, scars and much more.
A short video explanation of the procedure: www.youtube.com/watch?v=HJ7Ad3i732w
Commonly Treated
Conditions
MDPEN IS AN INCREDIBLE DEVICE THAT USES MICRO-NEEDLING TECHNIQUES TO PRODUCE A NUMBER OF BENEFITS, INCLUDING:
– Stimulating Collagen Production
– Increasing Elastin Production
– Removing Fine Lines
– Improving the appearance of wrinkles
– Reducing Acne Scars
– Decreasing Surgical scars
– Improving Sun-Damaged Skin
– Tightening Skin Pores
– Improving Skin Tone/Color
– Rejuvenating Skin
– Improving Rosacea
– Hydrating Skin
Frequently Asked
Questions
References
[1] Fernandes, D., & Signorini, M. (2008). Combating photoaging with percutaneous collagen induction. Clinics in dermatology, 26(2), 192-199.
[2] Alster, Tina, S., MD*; Graham, Paul, M., DO. Microneedling: A Review and Practical Guide, Dermatologic Surgery: March 2018 – Volume 44 – Issue 3 – p 397–404
[3] Majid I. Microneedling therapy in atrophic facial scars: An objective assessment. J Cutan Aesthet Surg 2009;2:26-30
[4] Yoon, J., Son, T., Choi, E. H., Choi, B., Nelson, J. S., & Jung, B. (2008). Enhancement of optical skin clearing efficacy using a microneedle roller. Journal of biomedical optics, 13(2), 021103-021103.
[5] Edgar, J. (2016). Later lasers. Why microneedling is the next big thing in skincare. Vogue. Feb 25, 2016.
[6] Arora, S., & Gupta, B. P. (2012). Automated microneedling device–a new tool in dermatologist's kit–a review. J. Pak. Med. Assoc, 22(4), 354-357.
[7] Bahuguna A. Micro needling-Facts and Fictions. Asian J Med Sci. 2013;4:1–4.